WaveNet begins…
WaveNet & East Anglia Multimode seems to have grown quickly, initially a point of discussion between Tim M1MIT, Jim M0ZAH and I.. one early morning on the 8.30am random repeater coffee net where we thought it might be an idea to have our own D-STAR reflector to play with.
Being very keen on D-STAR and AllStar, I thought it might be cool if I were to put a spare AMBE transcoder into use giving D-STAR hotspot access to some of the more far off repeaters such as GB3VW which was (and will again be) AllStar linked. This, after a little troubleshooting, became a reality and we were soon testing D-STAR reflectors and FM repeater & node linking.
This quickly became known as WaveNet and we even managed some remote testing, being able to link a temporary AllStar node in Herefordshire back to the D-STAR reflector to keep in touch with each other as part of a shakedown test.
Jim M0ZAH then suggested it would be nice to add DMR and maybe even consider C4FM, given the success of GB7DS in Norwich. Later on, in conversation with James M0JGX, the interest in building a DMR & repeater linked multimode bridge surfaced with us realising that we had all the gear in place to make it happen.
Introducing WaveNet, our East Anglia multimode system… A joint project between Team Wave and Lowestoft & Great Yarmouth Repeater Group, connecting D-STAR, DMR, C4FM, AllStar FM, TETRA and EchoLink with DV Scotland Phoenix talk group 841 and numerous repeaters in Norfolk & Suffolk.

What is it exactly?
There's a few key components to our multimode system, covered in the sections below. We've purposefully made the bridge modular. The first test implementation was one big chain of transcoding end-to-end based around AllStarLink, whereas this second revision is broken down into a few main parts.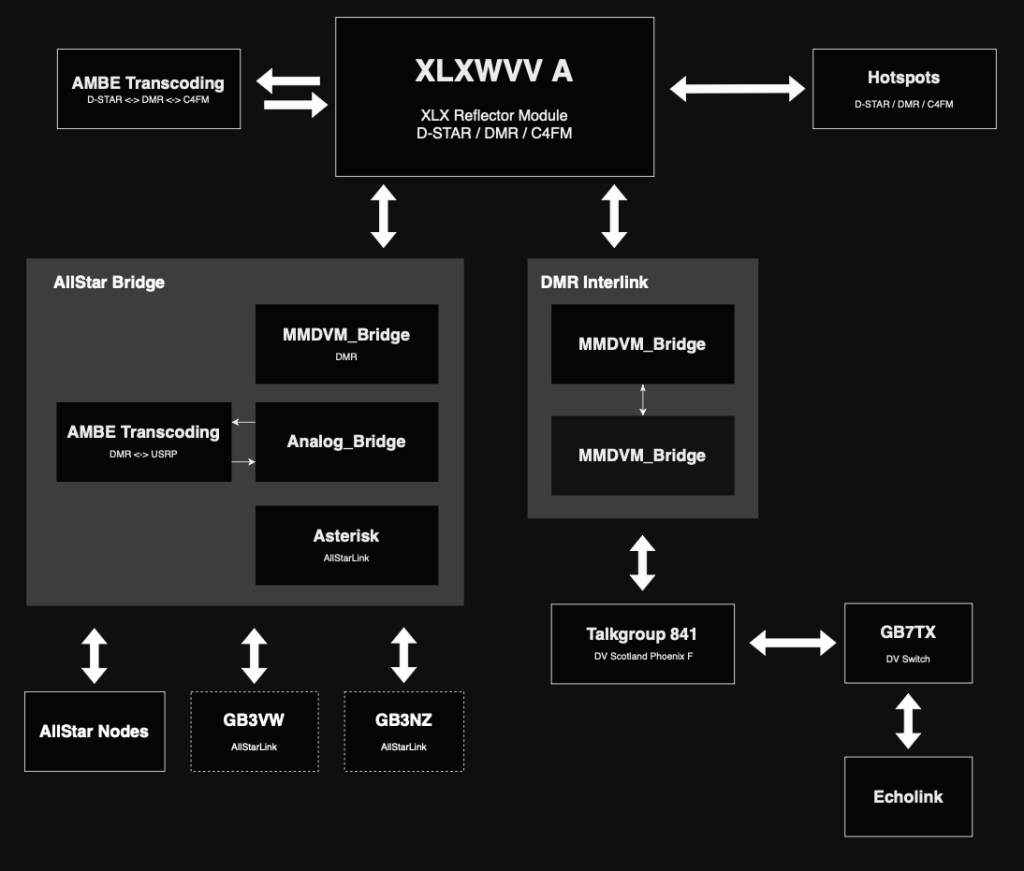 XLX Reflector – XLXWVV
This is a multimode reflector, supporting D-STAR, DMR and YSF/C4FM. Out of the box it supports each of the three modes for direct connection.
By addition of AMBE-3000 decoders and a piece of software called 'ambed' (included in the XLX github repo) you can enable cross mode calling
It appears to follow the D-STAR terminology quite closely with modules A-Z. These translate to DMR talkgroups 4001-400x and YSF DG-ID's starting from zero
You can connect your hotspot of choice directly to the XLX server and enjoy cross-mode communication with the preservation of callsigns between the modes
xlxd source code available at https://github.com/LX3JL/xlxd
DMR Interlink – MX0TWZ
Using components from DVSwitch, this is a small software stack enabling connectivity between XLXWVV and a given DMR network provider, such as DV Scotland Phoenix in our case
Consisting of two instances of MMDVM_Bridge connected back to back, it provides an interlink between TG841 and the DMR side of our XLX server, which in turn then cross-modes into D-STAR and C4FM
Callsign data is shared over the bridge, which makes it easy to follow in QSO
The bridge appears on XLXWVV as MX0TWZ-B, visible on the 'Repeaters/Nodes' as well as 'Users' page in the right hand column
AllStar Bridge – MX0WVV
This is a little more complex, but essentially is at one end a DMR connection into XLXWVV and an AllStarLink public node at the other.
Software wise, we start with an AllStarLink public node. This is connected to a private node to enable a simple way to disconnect audio where required.
From the private AllStar node, we connect out via Analog_Bridge, which takes USRP audio from AllStar, runs it through an AMBE transcoder (thanks to md380-emu) and passes the resultant DMR encoded audio to MMDVM_Bridge.
MMDVM_Bridge then connects to XLXWVV Module A and passes the audio stream along with the DMRmmdvm protocol data
Our intention is that we will start to link local AllStar capable repeaters such as GB3VW and GB3NZ so we have a clear FM link into the multimode bridge
MMDVM_Bridge and other components available via https://github.com/DVSwitch
TETRA – GB7TX
Thanks to the Lowestoft & Great Yarmouth Repeater Group and James M0JGX, we have connectivity through TG841 to GB7TX
This is a TETRA repeater, equipped with AllStar & Echolink access. TETRA traffic appears under the callsign MX0LYR
Under Construction
We've made a few customisations to the XLXWVV dashboard to improve clarity. Traffic that comes in from the DMR network side is clearly labeled as via 'TG841'. Traffic coming in from AllStarLink is equally labelled 'AllStar' and is presented via the callsign MX0WVV, as AllStar traffic originates as analog FM and therefore doesn't have embedded data for point of origin.
I'm sure we'll continue to learn, tweak and change components of the set up. Most notably, we're expecting more AllStar connectivity to be in place through our Wymondham repeaters (GB3VW/GB3NZ) soon.
We welcome users to join us, either via repeaters or your own hotspots whist we're in deeper testing, details on the numerous ways to connect are covered in the following link: Multimode Reflector
Many thanks to Team Wave, Lowestoft & Great Yarmouth Repeater Group and DV Scotland Phoenix for supporting this collaboration